Products

Adash Ltd.  offers tools and software for vibration diagnostics to all kind of customers according to their needs and budget. Customers  actively benefit from the features offered by ADASH products instead of putting tools into shelf . Customers also give  an opportunity to improve the products as well as improving the customers predictive maintenance programs.
Adash Products: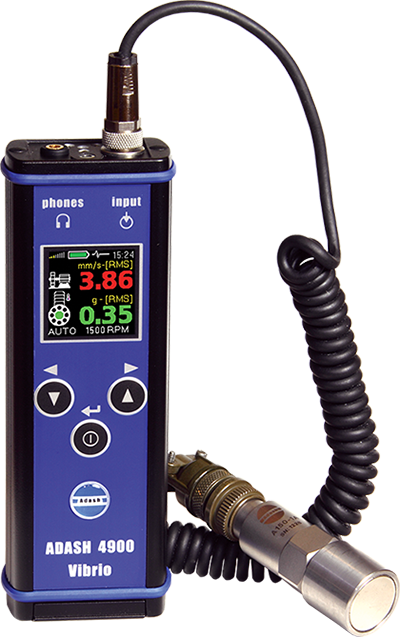 A4900 Vibrio M key features
All basic vibro diagnostics measurements: Overall values, Time signal, Frequency bands, FFT Spectrum, Route measurement
4 MB memory for data storage
detects unbalance, loosenes, misalignment or bearing faults
ISO 10816-3 included
8 hours of operation
stroboscope LED-lamp for machine check
available in intrinsically safe version A4900 Vibrio M Ex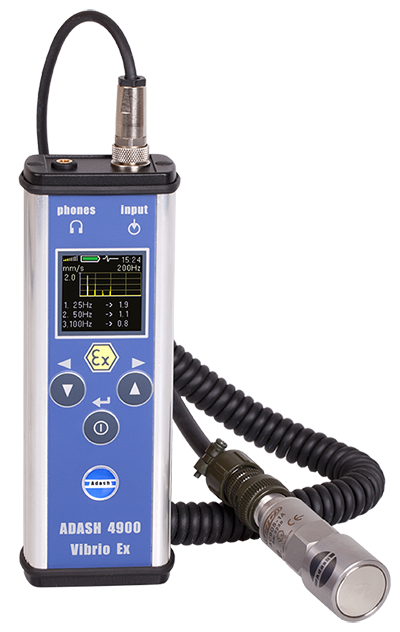 A4900 Vibrio M Ex key features:
All basic vibro diagnostics measurements: Overall values, Time signal, Frequency bands, FFT Spectrum, Route measurement

4 MB memory for data storage

detects unbalance, loosenes, misalignment or bearing faults

ISO 10816-3 included

8 hours of operation

determines the condition of your bearings, including slow-running ones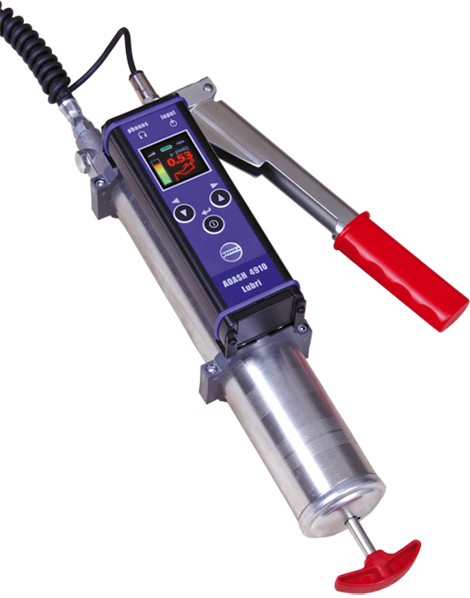 A4910 Lubri key features:
Increase bearing lifetime Basic vibrodiagnostics measurement Monitoring and control of lubrication process Stethoscope function – "listening of machine noise" Values in traffic light colours tells you when to add the grease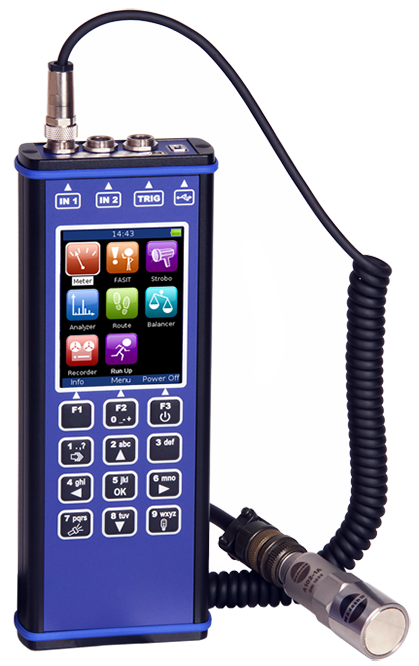 A4300 VA3 Pro key features:
Ideal for route measurement
Long lasting battery
Low weight 780 g
Route memory: 8 GB
Colour display 240 x 320 px
The
A4300 VA3 Pro
instrument can be configured according to your requirements by choosing optional modules e.g. analyzer, route, balancer. Optional modules can be purchased also additionally and downloaded to the instrument without the need of sending it back to the factory.It is the newest addition to our range of portable devices for vibration diagnostics. There are 2 signal inputs and 1 tacho/trigger input. Input 2 offers connectivity to a triaxial sensor, therefore all 3 channels can be measured simultaneously. The expert system developed by Adash can automatically detect machine faults such as unbalance, looseness, misalignment and bearing faults. There is a non-contact IR temperature sensor (for immediate bearing temperature measurement) and a LED stroboscope/torch. The A4300 VA3 Pro is designed for one-handed operation. With a weight of just 780 g and a battery life of more than 10 hours of operation, the unit is suitable for long route measurements.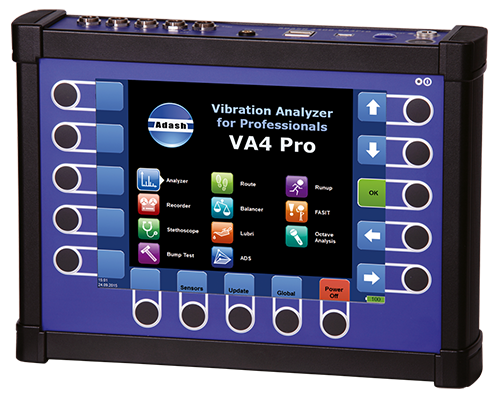 A4400 – VA4 Pro The fastest 4-channel analyzer
The
A4400 – VA4 Pro
is a unique instrument for machinery vibration diagnostics. The
A4400 – VA4 Pro
is designed for engineers, technicians and researchers dealing with machinery and structural diagnostics as well as dynamic balancing of rotating machinery. The
A4400 VA4 Pro
includes:
Analyzer
Route
Run up/Coast down
Recorder
Balancer
FASIT – Expert system
Stethoscope
Lubri
Octave analysis
Bump test
ADS (Animated Deflection Shapes)

The A4400 VA4 Pro:
4 channels simultaneously
FFT 3 276 800 lines in real time
Frequency range up to 90 kHz
35 hours recording of 4 channels
ISO 10816-3 included
Bearing database included
Input for triaxial sensor
ACMT – very low speed bearing analysis
User defined frequency bands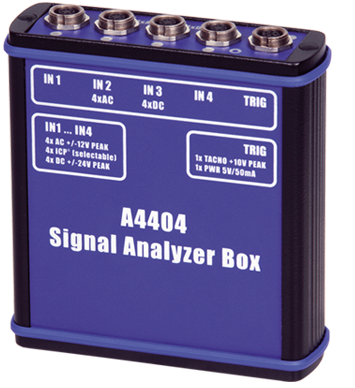 The
A4404 – SAB (Signal Analyzer Box)
is a pocket size 4 channel vibration analyzer. Connect the A4404 – SAB to any computer by USB and use the unit for data analysing, collecting and the recording of vibration signals. Install Virtual Unit sofrware to get all the functions of A4400 VA4 Pro analyzer. The instrument is powered directly by USB connection so no external power is needed.
Following modules included
Analyzer
Route
Run up/Coast down
Recorder
Balancer
FASIT – Expert system
Stethoscope
Lubri
Octave analysis
Bump test
ADS (Animated Deflection Shapes)
For more details check the link : http://www.adash.com
Hansford Sensors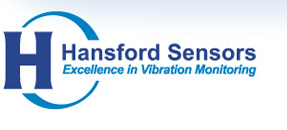 Hansford Sensors manufactures and supplies vibration measurement equipment to over 44 countries worldwide. Their equipment enables measurable improvements in the performance and efficiency of industrial plant by providing vibration diagnostics that support predictive and preventative maintenance on key equipment such as fans, pumps, motors and gearboxes.  Their products include intrinsically safe accelerometers approved for use in Group I (Mining) and Group II (Petrochemical). They also supply multi-sensor switch boxes, vibration sensor modules, portable vibration meters, accessories for sensors, vibration condition monitoring protection systems and custom built vibration sensors.
| | | |
| --- | --- | --- |
| | | |
| Vibration sensors for fans, pumps, motors, gearboxes… | Temperature and vibration measurement modules | Portable temperature and vibration diagnostics |
| | | |
| Protected connection points for vibration sensors | Sockets and cables for vibration monitoring assemblies | Tools and mounts for vibration accelerometers |
Hansford Sensors offers a wealth of experience in the design and manufacture of industrial vibration sensors for various applications, including Metals, Pharmaceuticals, Wind Power, Marine, Paper, Coal and Quarries and Food and Beverage. You may read more about each industry and application at
http://www.hansfordsensors.com/applications
Easy Laser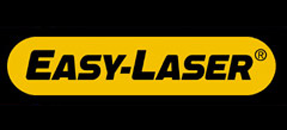 Easy-Laser® products offer precision alignment and measurement systems. Applications for shaft alignment and sheave/pulley alignment to geometrical measurements of virtually every kind.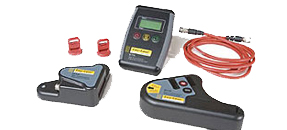 With Easy-Laser® Alignment systems you help reduce wear and tear on for example couplings, seals and bearings. You also minimize energy consumption, reduce vibration and noise. All together resulting in substantial savings thanks to lower maintenance and operating costs. This means that the investment in an Easy-Laser® Measurement and Alignment system has a very quick return-on-investment (ROI).
Shaft Alignment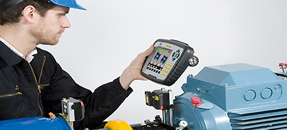 There is an Easy-Laser® shaft alignment system for every need, for the simplest alignment of horizontal machines to the most advanced alignment for all types of rotating machines and for use in potentially explosive environments.
Geometric Measurement Technology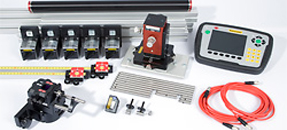 Geometric measurement technology spans an extremely wide field. We are able to offer you turnkey systems for specific measurements, but in truth Easy-Laser® can be expanded, combined and upgraded to suit any of your measurement needs, now or in the future.
Shims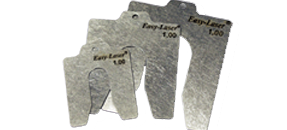 Easy-Laser® shims make your alignment work easier. Made of high quality stainless steel. For flexible transportation and easy viewing we offer shim cases.
In addition to the already versatile standard system, measurement systems can be specially adapted to suit customers' needs, something to be proud to offer. The development department has the utmost technical ability, their own modern machine workshop, and, of course, a burning interest in measuring technology!
You may read more about each product on this link:
http://www.damalini.com/Products-504.aspx
Solutions for thousands of measurement and alignment problems
There are thousands of different applications for laser measurement systems, in a variety of different industries and various types of machines. In many cases their basics mirror each other.
In this section (http://www.damalini.com/Applications-472.aspx) You may check a few common and basic applications, or measurements, to gain a better understanding about the technology and what Easy-Laser® can do. You will probably find similarities with your measurement and alignment needs.
More details about Specific Applications (Shaft Alignment, Sheave/pulley alignment, Machine tools, Straightness, Flatness, Squareness, Parallelism, Spindle direction, Plumb line) and Industry applications (Ship Industry, Power and heat generation, Pulp and paper, Diesel engines and gearboxes, Wind power industry, Process industry, Plastic industry and Other industries) can be read here:
http://www.damalini.com/Applications-472.aspx
Schaeffer Oil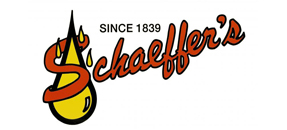 Schaeffer Oil's synthetic motor oils, hydraulic fluids, and diesel fuel additives have achieved a world-class reputation for improving engine performance and fuel economy, but their diverse product line includes all types of industrial lubricants, industrial greases, and industrial oils as well as specialty items like chain lubes and degreasers.
Schaeffer is your single source supplier.
Whether you need a 5 gallon container or a 6000 gallon bulk tank load, Schaeffer can be your single source supplier. To meet the individual needs of our customers, hundreds of industrial lubricants are manufactured in addition to fuel additives, and synthetic motor oils.
Schaeffer products are used by virtually everyone, from large national refineries and trucking companies to local jobbers and individual farmers.
Engine Oils

Fuel Additives

Greases

Gear Lubricants

Transmission Fluids

Open Gear & Thread Lubes

Surfactants & Soil Conditioners

Specialty Products

· Hydraulic Fluids

· Metalworking Fluids

· Food Grade Lubricants

· Industrial Oils

· Non-Staining Oils
You may read more about each product here:
http://www.schaefferoil.com/oil-lubrications-products.html
Schaeffer specializes in developing quality lubricants for vehicles used in the mining, construction, trucking, marine and farming industries as well as specialized lubricants and metalworking fluids for all types of machinery and equipment.
With over 300 fully formulated products, the lubrication needs are satisfied for a wide variety of industries.
You may read more about examples of products that are used in specific markets (Trucking, Construction, Food Equipment, Racing, Fuel Storage, Agriculture, Mining, Industrial, Retail and Marine) here:
http://www.schaefferoil.com/schaeffer-oil-markets-served.html
Klean Oil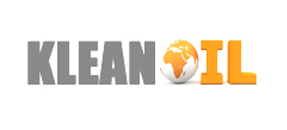 Klean Oil specializes in designing and manufacturing oil treatment plants for conditioning transformer oil, lubricating oil, refrigerant oil, turbine oil, hydraulic fluids, engine oil etc. With advanced oil filtration technology, their machines can rapidly remove impurities from oil so as to improve oil quality and extend service life of the oil. Their products have established a fine reputation in the world market with high quality, fair price, fast delivery and good service.
| | |
| --- | --- |
| | |
| Transformer Oil Purification & Electrical Insulating Fluids | Motor Oil Recycling & Engine Oil Regeneration |
| | |
| Hydraulic Oil Purification & Compressor Oil Purifier | Lubricating Oil Purification (Turbine Oil, Gear Oil, Bearing Oil, etc.) |
You may read about all the products and others with more details regarding their application and their features here:
http://www.kleanoil.com/products/products.html As a leader in oil water separation and filtration Klean Oil can extend the energy of your equipment and can find a solution for each industry (Power Generation / Power Transmission & Distribution / Fuels / Automobile / Machinery / Metals / Pulp & Paper) you may read about each industry and solution here: http://www.kleanoil.com/solutions/solutions.html
MP FILTRI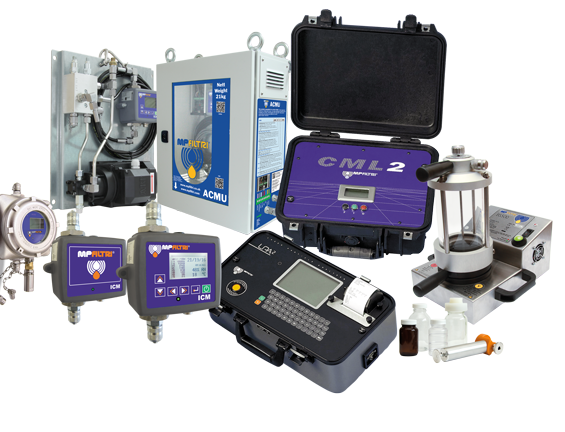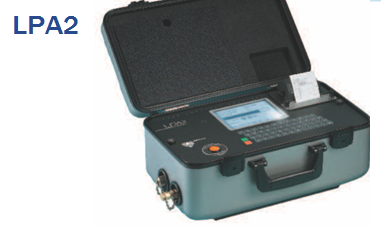 The LPA2 is a highly precise, lightweight & fully  portable instrument suitable for on-site and laboratory applications. It can automatically measure and display particulate contamination, moisture and temperature levels in various hydraulic fluids
Features & Benefits:
Exclusive MP Filtri technology. The combination of the two lasers  with the unique optics  and photodiode package  enables  the LPA2 to give increased accuracy combined  with excellent repeatability.
W-Option- Water Saturation level (RH%) and fluid temperature sensor option.
Full Calibration based on ISO11171
 Measures and displays the following international standard formats;ISO 4406:1999, NAS 1638, AS 4059E andISO 11218
 Moisture and temperature sensing
 Data logging and 600 test result memory
Manual and remote control flexibility
 LPA View software (included)
 Full size QWERTY keyboard
 Various test programme settings
 Full accessories kit included
 Internal rechargeable battery capable of performing 100 tests between charges
For more specific details visit: http://www.mpfiltri.co.uk/